Coming Up:
Meetings are held the second Tuesday of every month at noon.   We are currently in search of a new meeting location.  It will be announced shortly.
Schedule of Meetings for 2017:
July 11 – General Business Meeting
August 8 – To Be Announced
September 12 – To Be Announced
October 10 – To Be Announced
November 14 – To Be Announced

2017 Annual Dinner
PCBA members and guests are invited to attend the Annual Dinner on Friday, June 30th at 5:30 p.m. at the Country Club.  Tickets are $25 per person.
Buy your tickets on-line now.

Tables of 8 and 10 are available for purchase.  Cocktail hour will begin at 5:30, and a buffet dinner will be served at 6:30.  Presentation of awards to begin shortly thereafter.  Please join us in honoring Joseph Koncilja, this year's Award of Merit recipient.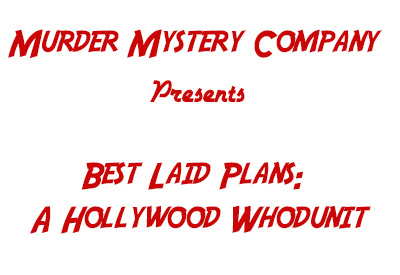 After dinner and awards, stay for a show presented by the Murder Mystery Company entitled Best Laid Plans: A Hollywood Whodunit.  It is the quintessential whodunnit thriller set at the estate of Sir Warren Peace and will transport guests into a night of mystery, intrigue, and murder you will never forget. With a killer crowd of people just waiting for murder to arrive on the scene, this night will keep everyone looking over their shoulders and guessing who the next victim will be! Bribe suspects for clues and gather information to uncover the unhinged guest who is whacking all the invitees. Just be careful, because you could be next!
Please RSVP by June 23rd.  Buy your tickets on-line by clicking the Add To Cart Button, or you may send a check to the Bar Association at P.O. Box 802, Pueblo, CO 81002.